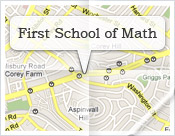 On average out of 1,000 students taking SAT-I test in the US a single student gets the highest possible score of 800. On average 25% of FSM students get the score of 800 on the same test, 75% of our students score 750 or higher.
Our SAT results
Vladimir Shtokman
800
800
Alex Kamergorodsky
760
760
Natalya Dorokhina
800
760
Michael Perchonok
800
790
Our congratulations to Vladimir Shtokman on being accepted to Columbia University and to Michael Perchonok and Alvin Tin on being accepted to Brown University!
Congratulations 2004 - 2005 Calculus Class!
Class size:
10 students
800 on SAT-I:
5 students
800 on SAT-II:
9 students
MIT accepted:
2 students
Harvard accepted:
1 students
BU accepted with scholarship:
1 students
High School seniors taking math at MIT/Harvard:
5 students
2005 Calculus class
SAT - I
SAT - II